Rental Boots (U.S. Delivery)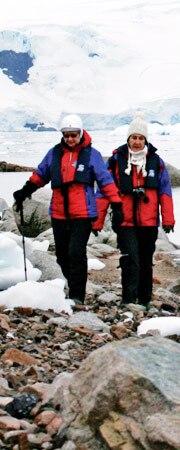 Boots are essential items for Arctic expedition travelers are often a one-time purchase and add inconvenience, environmental waste and expense to travel. We recommend that all guests bring their own boots or, if you live in the U.S., you may rent them. Please note: A limited number of boots are available on board Silver Explorer for emergency situations only. Boots are not available on board Silver Discoverer.
Why Rent?
Convenience. Boots are shipped to your home with a return shipping label.
Sustainable choice. Renting is a smart environmental choice if you will likely not wear the boots and/or waterproof pants again. By renting both the Reduce & Reuse part of 'Reduce, Reuse and Recycle' are implemented.
Arctic Rental Service – Home Delivery to U.S. Shipping Addresses Only
Available for men, women and kids
Rental boots will be delivered to your home.
Return shipping is included.
Shipping cost and transit time to your home is based on the shipping method you choose.
United States addresses only.
Order 30 days before embarkation date to allow time to try on your boots and for more economical shipping.
Rentals will be sent from our Seattle warehouse 45 days or less before departure.
Order online up to 14 days prior to your embarkation date.
Orders 13 - 6 days prior to your embarkation date may be possible through contacting Customer Care at uscustomercare@stshore.com.
Orders 6 days or less: sorry, boot rentals are not possible.
Rental period is per cruise. For back-to-back cruise rentals please contact us to arrange to keep the rentals for the full duration. Rental per cruise and only one deposit will be charged.
Returns, Cancellation and Promotional Policies
Rentals must be returned within 14 days of disembarkation date using the supplied shipping label
Boots cannot be left on board the ship
No refund for rentals returned damaged or not returned to the address on the return shipping label
Cancellation up to 10 days before sailing: full refund
Cancellation less than 10 days before sailing: sorry, no refund
Deposits are processed within 15 business days from disembarkation date and will be applied to the credit card used to rent boots
Rental Agreement
By renting boots, renter agrees to pay $78 per pair of boots, plus $100 refundable deposit
Non-return charges: $100 for boots not returned to the address on the supplied shipping label or returned damaged. Boots cannot be left on board. Boots left on board are considered not returned and you will not be refunded your deposit.
About the Boots
Though essential for wading in icy waters during Zodiac landings, the proper boots are bulky and weigh between 4.5 lbs / 2.5 kgs to 6 pounds / 2.73 kgs. By renting boots, you will have the best boot to stay warm and dry.
Our rental boots are sanitized after each rental using products that have been proven to work in U.S. high-end ski resort rentals.
About Zodiac Classic High Boots
Comfortable, insulated boots are essential for expeditions to the Arctic. The Zodiac Classic High Boots are flexible, durable and will keep your feet warm. A range of women's, men's and children's sizes are available.
Boots are also available to purchase:
Buy Boots
Get Fully Outfitted
Get Fully Outfitted for the Arctic