Arctic Rentals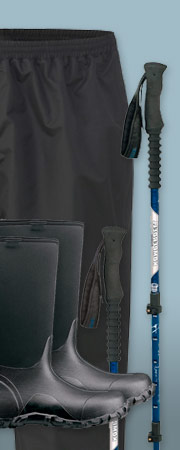 Rent Boots, Waterproof Pants and Trekking Poles
NEW! Rental Service: Arctic, Greenland, Russian Far East
Boots/Waterproof Pants/Trekking Poles are delivered to and picked up from the ship.
Rentals must be ordered at least 30 days before sailing.*
Rental period is per cruise. For back-to-back cruise rentals please contact us to arrange to keep the rentals for the full duration. Rental per cruise and only one deposit will be charged.
Check the Quick Reference Guide for a list of sailings that offer rentals
Rentals Delivered Free to the Ship
The heavy boots that are an essential item for Arctic & Greenland and Russian Far East expedition travelers are often a one-time purchase and add inconvenience, environmental waste and expense to travel. Waterproof pants are also essential and trekking poles provide stability while ashore.
Silver Cloud & Silver Explorer Rental Boots, Waterproof Pants, Trekking Poles
Why Rent Boots?
Less luggage. Boots are heavy and take up lots of your allowed checked luggage weight.
Convenience. Free boot delivery to the ship through our Concierge Service.
Sustainable choice. Renting boots is a smart environmental choice if you will likely not wear them again. The drastic savings in fuel and carbon is seen below... Both the Reduce & Reuse part of 'Reduce, Reuse and Recycle' are implemented.
Please note: A limited number of boots are available on board for emergency rentals. These boots cannot be reserved in advance, sizes cannot be guaranteed and the rental and deposit prices are 20% higher than the online rentals. We strongly recommend that you bring your own boots or rent them before arriving at the ship.
Refundable Deposit
Deposits are processed within 15 business days from disembarkation date
No refund if rentals are not returned or returned damaged
Refund will be applied to the credit card used to rent boots, waterproof pants and/or trekking poles
Rentals Cancellation Policy
Cancellation up to 30 days before ship embarkation date: full refund (rental and deposit)
Cancellation 29 days or less before ship embarkation date: no rental refund (rental not refunded, deposit refunded)
Promotional discounts cannot be applied to rental deposit
Save Space by Renting
Though essential for wading in icy waters during Zodiac landings, the proper boots are bulky and weigh between 4.5 lbs / 2.5 kgs to 6 pounds / 2.73 kgs. By renting boots, you are guaranteed to have the best boot to stay warm and dry while gaining space in your luggage.
Waterproof pants are also essential to stay warm and dry in the Arctic, especially during Zodiac rides. Our rental pants are waterproof, breathable and fit over the rental boots.
Trekking poles offer stability while walking ashore but are often awkward to pack in luggage and/or to carry on Zodiac rides if they don't collapse. Our rental trekking poles collapse down to 25.6 in / 65 cm.
Rest assured, all boots are sanitized after each rental using products that have been proven to work in U.S. high-end ski resort rentals.
More About Rental Boots
Comfortable, insulated boots are essential for expeditions to the Arctic. The Zodiac Classic High Rental Boots are the top recommended boot for the Polar regions and have been tested by expedition leaders. They are flexible, durable and comfort rated to - 40 F / -40 C so your feet stay warm. A range of women's, men's and children's sizes are available. Boots are also available for purchase.
Buy Boots
*Minor exceptions apply. Please consult the Quick Reference Guide for details.